PPCLI WW1





---
---
---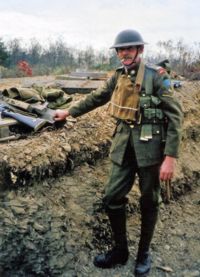 Princess Patricia's Canadian Light Infantry - World War 1
The PPCLI Living History Unit is one of a few projects in the Canadian Military Heritage Society (CMHS).The members are dedicated Historians / Antiquarians who study all aspects of Canadian military history and re-enact several time periods of interest.
It is in the hope of keeping the memory of the sacrifices of our nations ancestors and the great legacy left to us in the present day, alive and in focus, that we embark on these various projects. Canada's contribution in the Great War is often overlooked by other nations and indeed by many Canadians who know little of it because their only experience of it is through very basic primary school history and what condensed information they get from Remembrance Day services.
The members of this unit have the rare opportunity to gain knowledge through recreating as closely as possible, the experience of the First World War infantryman, and in combination with studying the history of the war, they are able to pass on this information in an interesting way.
Why the PPCLI?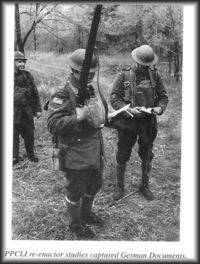 When the members of the CMHS decided to recreate a unit from the Great War it was felt the best unit to reproduce which represented Canada's duty and fighting spirit during this time period, would be the first infantry regiment Canada sent into France. The Princess Patricia's Canadian Light Infantry.
In 1994, the reenacted PPCLI unit was recognized and supported by Regimental Headquarters of the present PPCLI. The PPCLI, in an article in its regimental annual, The Patrician, referred to the re-enacted unit as the 5PPCLI. The picture on the left is from that article.
Please take the time to view the tributes to our veterans and to our fallen soldiers while fighting to bring peace in Afghanistan. Remember to thank a Veteran on Rememberance Day...and everyday.
Related Articles
Students Get a Taste of WWI Battle Conditions - Nov. 3, 2011: Each year the CMHS leads an Education Day for Ontario students at Fanshawe Pioneer Village in London, Ontario.